I mentioned that one of the greatest thrills for the students is for them to be able to get demographic information about the people visiting their site. Let me show you what I mean.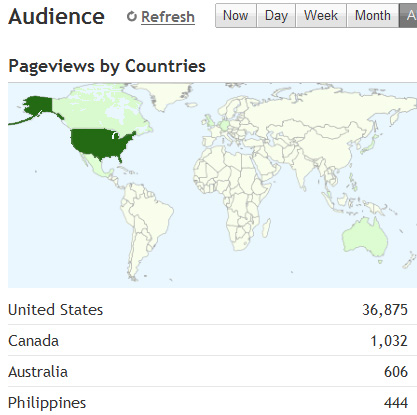 The above is a screenshot of what I see when I go into the "Stats" section of my own personal blog. The students do this on their own blogs. It's only viewable to the author, and in the case of student blogs, the teacher and parent. You can see the map and the list of countries showing where I get the majority of my "hits" from. The list of countries is considerably longer but I only took a section. This shows the "all time" page views.
     The blogger can also track Pageviews by the week, day, or month. Once is awhile someone from a faraway land like South Korea, Malaysia, or the Philippines visits the student's sites. Whether the visitor stumbled onto the blog by accident isn't important to the student, it's knowing that they are connected to the world and they can share their work. They are coming into class during morning recess just to blog and check their blog stats, and when they get a hit from somewhere interesting, they often shout out the news with excitement to their peers. "
Someone from Australia visited my blog
!"
     The above screenshot shows me the number of hits I got per month on my blog, and which articles got the most attention. The students LOVE keeping track of this statistical information. This teaches students about marketing. If they notice that some of their posts receive more hits than others, they can choose to cater to that demand.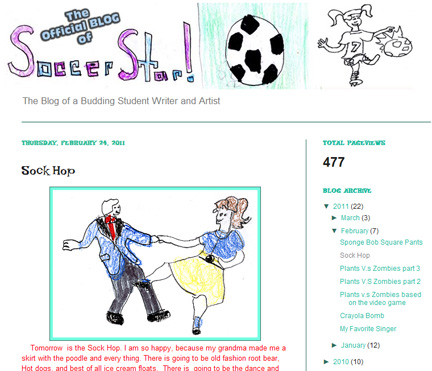 For example, one of my student bloggers wrote about the sock hop. That article might generate a lot of interest among our school community. As soon as she posts the article, which includes her scanned custom artwork, she can start watching the page views accumulate. Students don't need to get many hits to get motivated; knowing that your work has the
potential
for being appreciated by a real audience, rather than submitting to the teacher for yet another "check plus", is exponentially more rewarding.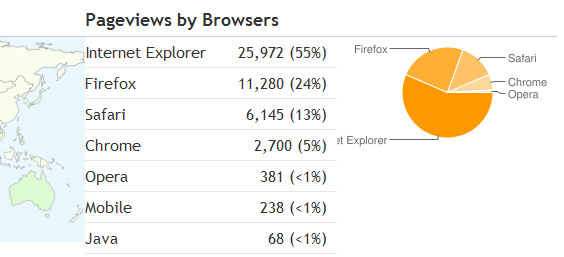 The above is a screenshot telling me the type of internet browsers that my readers use. This is important because when one is designing a website, they need to keep into consideration the machines that are used to view their website or blog. If the blogger adds too many bells and whistles to their blogs, it will prevent the proper functioning of the blog or website in some browsers.
     For example, my students love to add these cute little animated graphics of fish swimming on the top of their blog. It slows down the loading of the site and also prevents it from properly functioning on certain browsers and devices, so we banned those. We are working with our audience in mind.